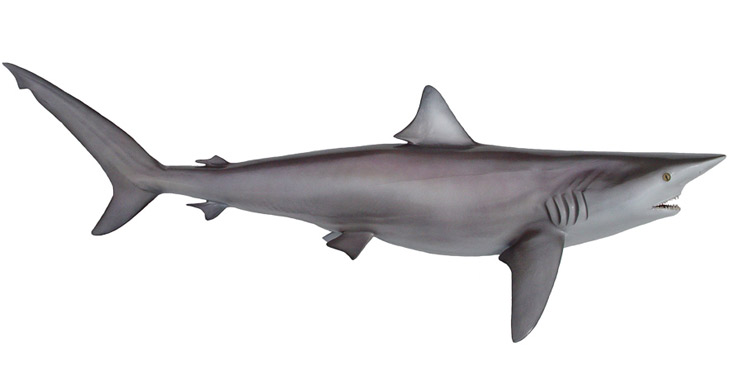 Product Overview
Our Silky shark trophy fish mount from Gray Taxidermy is handcrafted in the U.S. We combine over fifty years of experience and skilled craftsmanship to ensure that your custom trophy mount exceeds your expectations of what a perfect custom fish mount should look like.
Our skilled artists take pride in capturing the rich beauty and realism of nature that each unique marine species bring. A fish mount from Gray Taxidermy will capture and commemorate a memory of a life time. We are able to transform raw materials into the ultimate representation of an angler's most notable achievement. Great attention to detail and true craftsmanship is our motto while we continue to serve customers around the world. Gray Taxidermy goes to great lengths to ensure the precise color and characteristics are resembled in your custom fish mount.
Before leaving our facility, each custom fish mount is thoroughly inspected to ensure our goal of 100% customer satisfaction.
If you want to complete your trophy wall with a unique action scene by adding baitfish along your mount, we have a variety of baitfish mounts to choose from.
Product Specs:
Available Sizes: 53 in. - 216 in.
Details: Fired-Enamel Glass Eye

Species Information
Scientific Name: Carcharhinus Falciformis

Length: Maximum length for this species is 3.3 m (10 ft). Males mature at 215-230 cm (9-10 years of age) and grow to a lesser size than females, which reach maturity at 230-245 cm (12 years of age), however, these numbers may vary by population.
A large, slender shark, the silky is characterized by a moderately extended, rounded snout, a relatively sloping first dorsal fin with a blunt apex that originates behind the free margins of the pectoral fins, a small second dorsal fin with an extremely long free rear tip (more than 2x the height), and a low inter-dorsal ridge. Pectoral fins are long and slender, typically with dusky tips.

Location & Habitat: These sharks love the warm, tropical waters all over the world. They are the most common sharks of the "Pelagic Zone" which are continental shelves with depths of 500 meters or more (1,640ft). But often times, they are seen near the surface as well. The desired water temperature is 20 to 30 degrees Celsius (60 to 86 degrees Fahrenheit).

The Silky Shark, also known as the Carcharhinus Falciformis, gets its name from the smooth and silky texture of its skin. Depending on its geographical location, it is also known as the Grey Reef Shark, Olive, Whaler, and sometimes Blackspot.
These sharks have a streamlined and slim body. As adults, they can reach 3.5 meters (12ft) in length and weigh around 350 kilograms (770 pounds).
Behaviour: They have an extremely strong sense of hearing. This acts as a great advantage for locating their preys, mostly consisting of bony fish (especially Tuna), octopuses, and squids.
These predators have a perfect and effective hunting behavior. They dive together in large groups of fish and attack them with lighting fast speed and wide open mouths.

Proud SupporterS of the Charter fishing Captains and
the charter fishing industry for over 50 years!
Continuing to perfect the art of mounting fish