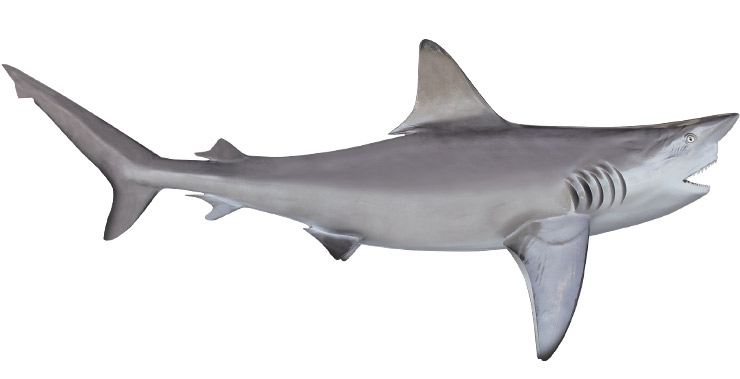 Product Overview
Our Reef Shark trophy fish mount from Gray Taxidermy is handcrafted in the U.S. We combine over fifty years of experience and skilled craftsmanship to ensure that your custom trophy mount exceeds your expectations of what a perfect custom fish mount should look like.
Our skilled artists take pride in capturing the rich beauty and realism of nature that each unique marine species bring. A fish mount from Gray Taxidermy will capture and commemorate a memory of a life time. We are able to transform raw materials into the ultimate representation of an angler's most notable achievement. Great attention to detail and true craftsmanship is our motto while we continue to serve customers around the world. Gray Taxidermy goes to great lengths to ensure the precise color and characteristics are resembled in your custom fish mount.
Before leaving our facility, each custom fish mount is thoroughly inspected to ensure our goal of 100% customer satisfaction.
If you want to complete your trophy wall with a unique action scene by adding baitfish along your mount, we have a variety of baitfish mounts to choose from.
Product Specs:
Available Sizes: 53 in. - 216 in.
Details: Fired-Enamel Glass Eye

Species Information
Scientific Name: Carcharhinus Perezi

Weight: up to 70kg or 154lbs

Length: up to 10m / 3+ ft.

Location & Habitat: These sharks prefer the shoreline from Florida to Brazil. . The tropical parts of the western Atlantic Ocean is home to this variety of sharks. Normally found on the outer edges of reefs, the Caribbean Reef. These sharks are found quite commonly at a depth of about 100 feet (30 meters) and are known to dive to incredible depths of around 1250 feet (380 meters).
The Caribbean Reef Shark, also called the Carcharhinus Perezi in the scientific community, is a member of the requiem shark species. They are mostly found on the East coast of America (Atlantic coast) and southwards. The structure of this shark is streamlined and robust and can be easily confused with other sharks in its family. When you look up close, they have an extra rear tip on the second dorsal fin. The first dorsal fin is slightly angled or curved and the gills slits are also longer than most other varieties of sharks.
Dubbed "the silent sea predator", they can grow up to 10 meters long (3+ feet) and can weigh up to 70kg or 154lbs. That's one big fish! While it is considered dangerous to humans, this shark does not have a history of attacks on humans.
Also known as the "Reef Shark", it has a unique color and is white to light yellow on the ventral side and grey-brown to dark-grey on the dorsal side. It has larger eyes and the snout is rounded and short in comparison to other sharks.
This shark breed is actively fished as a source of meat and liver oil. In addition, they also attract attention from eco tourists in the Bahamas. The Bahamas are known to host questionable shark feeding programs to attract visitors and the Caribbean Reef shark is one of the major attractions.
Although laws ban the hunting or fishing of this species, the fishing industry in South America still finds these sharks in about 40% of their fish catch. While the catches are unintended, there has still been a drastic impact on the population and the population continues to dwindle.

Proud SupporterS of the Charter fishing Captains and
the charter fishing industry for over 50 years!
Continuing to perfect the art of mounting fish