Endless customization options!
Gray Taxidermy specializes in handcrafting world-class custom fish mounts of all freshwater and saltwater fish species.


All mounts are custom made in the U.S., one mount at the time, making each and every one of them unique.
We have been in the marine Taxidermy business for over 50 years. With over 500,000 custom fishmounts created we have the knowledge and experience to craft the ultimate trophy mount.
A mounted fish from Gray Taxidermy will commemorate a memory of a lifetime. Our skilled artists take pride in reproducing the rich vibrant colors and true beauty of each species in every mount they create. Our goal is to recreate your fish to resemble the way it looked during that special day on the water.
We continue to travel the world to create our one of a kind fish molds which are a vital part in crafting a museum quality fish mount.
Take a look inside the shop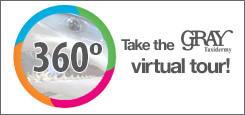 Get the App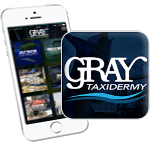 GET YOUR'S TODAY!
How can we help?
Fill out the form below and we will reach out to you shortly.

Proud SupporterS of the Charter fishing Captains
and the charter fishing industry for over 50 years!
Customer Testimonials
Mike, The fish for Danny and James just arrived. I don't know if you remember us with 3000 fish in your place at any given time. But, they are the cow dolphin fish and the silky shark. They are SPECTACULAR!!!! Beyond my wildest dreams and well worth waiting for. The boys will be "blown away" when they get home from school today. Thank you SOOOOO, SOOOOO much. Please tell all your pepole how great their work is and that they have made 2 teenage boys exceedingly happy. They will keep these fish their entire lives and will always remember now the trip we had together. And, it is all thanks to you, the great Captain and crew and your people.

THANK YOU VERY MUCH, Stu Carter

Hi Lela and Lázaro! How are you?... I am emailing you to inform you that we received the trophy, my boss is happier than ever, Thank you so much for the attention to our order, you are super professionals.


Happy Holidays, Siomara

My mako shark looks awesome! You and your crew did an amazing job on recreating him and the base is sweet! Southeastern freight delivers him in perfect shape. Just wanted to say thank you for all you did and for the tour of the facilities!

Best, Cody

I want to Thank Gray Taxidermy for a fantastic job you guys did for me. The entire customer service crew of the way you were dealing with me on the details of pose and painting. Tyler for a brilliant and detailed paint job. Jimmy customer service and the tour of your facility. All the rest of your staff who did there part.

Robert McCue, Atlanta

I don't expect you to remember, but THANK YOU for the engraved plaque of my 89 in. sailfish. It looks great and I'm so glad to have it instead of the large fish mount. Also, I secretly ordered a 27 in. brown trout mount for my husband's birthday and gave it to him a few days and. He is thrilled with it and the quality work you did! Thank you for everything!

LAURA

I just wanted to thank you and the team @ Gray Taxidermy. I received the Dorado and Sailfish last week. They are both magnificent and breathtaking. It was worth the anticipation and the wait..

Jill Demaroc,

Thank you so much for the beautiful, lifelike work you've done on my bull dorado caught this spring. This is the third fish mount you've done for me and I can't stop looking at each of them. I enjoy them every day.
Best regards,

Jane McDoe, Yet another one

I received the mount yesterday. Everything was in good shape. Pretty awesome mount. Thanks again and pass the word on to everyone else that was involved in the process. Thanks again.

Steve in Florida

Thanks for getting the fish to me on time as promised. I will defiantly use you guys again. I am also going to give you guys a good review on line. I did have 1 ussie though you mad my sons fish bigger than mine LOL… How much would it cost for you to send me a wall mount plaque and plate that I can mount it on?

laura muse
Commemorize that special day on the water
Let your imagination run free! We can create a fishmount of any fish species imaginable?