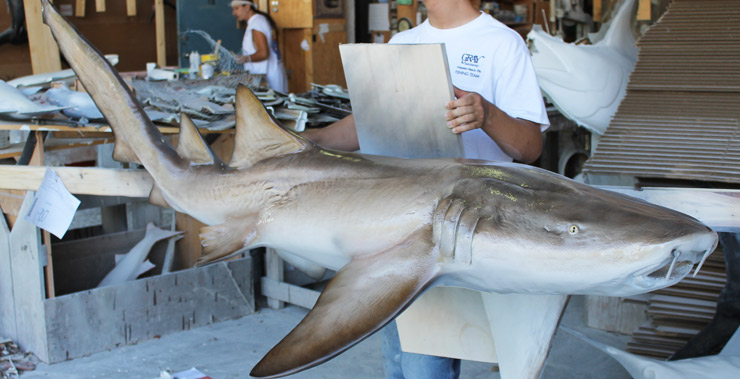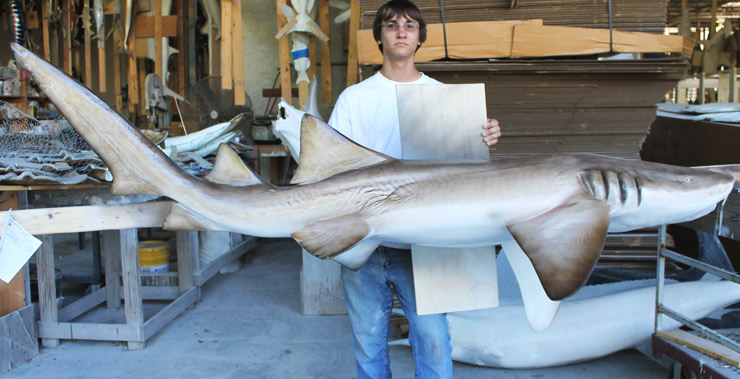 Product Overview
Our Nurse Shark trophy fish mount from Gray Taxidermy is handcrafted in the U.S. We combine over fifty years of experience and skilled craftsmanship to ensure that your custom trophy mount exceeds your expectations of what a perfect custom fish mount should look like.
Our skilled artists take pride in capturing the rich beauty and realism of nature that each unique marine species bring. A fish mount from Gray Taxidermy will capture and commemorate a memory of a life time. We are able to transform raw materials into the ultimate representation of an angler's most notable achievement. Great attention to detail and true craftsmanship is our motto while we continue to serve customers around the world. Gray Taxidermy goes to great lengths to ensure the precise color and characteristics are resembled in your custom fish mount.
Before leaving our facility, each custom fish mount is thoroughly inspected to ensure our goal of 100% customer satisfaction.
If you want to complete your trophy wall with a unique action scene by adding baitfish along your mount, we have a variety of baitfish mounts to choose from.
Product Specs:
Available Sizes: 53 in. - 216 in.
Details: Fired-Enamel Glass Eye

Species Information
Scientific Name: Ginglymostoma cirratum

Size: 7.5 to 9.75 ft (2.2 to 3 m)



Weight: 200 to 330 lbs (90 to 150 kg)


Did you know?
Nurse sharks are nocturnal and will often rest on the sea floor during the day in groups of up to 40 sharks, sometimes piled on top of each other.


The scientific name Ginglymostoma cirratum is is a mix of Greek and Latin and means "curled, hinged mouth" to describe this shark's somewhat puckered appearance.
The origin of the name "nurse shark" is unclear. It may come from the sucking sound they make when hunting for prey in the sand, which vaguely resembles that of a nursing baby. Or it may derive from an archaic word, nusse, meaning cat shark. The most likely theory though is that the name comes from the Old English word for sea-floor shark: hurse.
Nurse sharks are slow-moving bottom-dwellers and are, for the most part, harmless to humans. However, they can be huge—up to 14 feet (4.3 meters)—and have very strong jaws filled with thousands of tiny, serrated teeth, and will bite defensively if stepped on or bothered by divers who assume they're docile.
They use their strong jaws to crush and eat shellfish and even coral, but prefer to dine on fish, shrimp, and squid. They are gray-brown and have distinctive tail fins that can be up to one-fourth their total length. Unlike most other sharks, nurses are smooth to the touch.
Nurse sharks are found in the warm, shallow waters of the western Atlantic and eastern Pacific oceans. They are abundant throughout their range and have no special conservation status, although the closeness of their habit to human activities is putting pressure on the species.
Fish Molding Process
We have and continue to travel the world to make our one of a kind molds as they are a vital part in order to handcraft the most popular fish mounts on the market. Our patented molds are then used to create the various fish models from which we can reproduce the life-like fish trophy mounts.
We do not extend, shorten or modify an existing model to fulfill an order. Instead we use one of the over 10,000 models of various sizes and species available. And we can of course customize the mount to fulfill your needs and we are confident that we can build your custom fish mount regardless of inch increment or fish species.
We build one fish at a time to match the length, girth, and all of the specific characteristics and details only YOUR FISH displays. [Complete Molding Process]

Proud SupporterS of the Charter fishing Captains and
the charter fishing industry for over 50 years!
Continuing to perfect the art of mounting fish