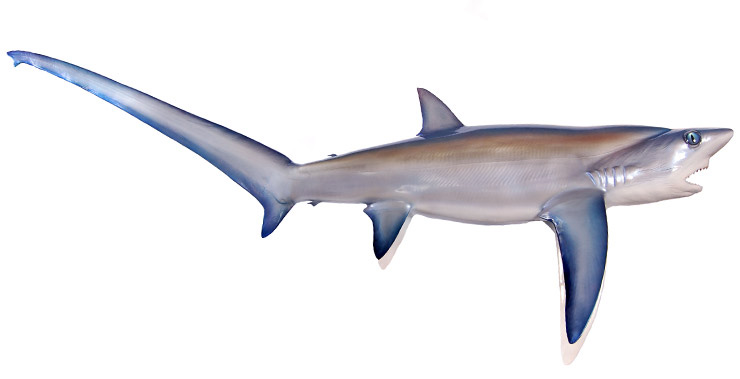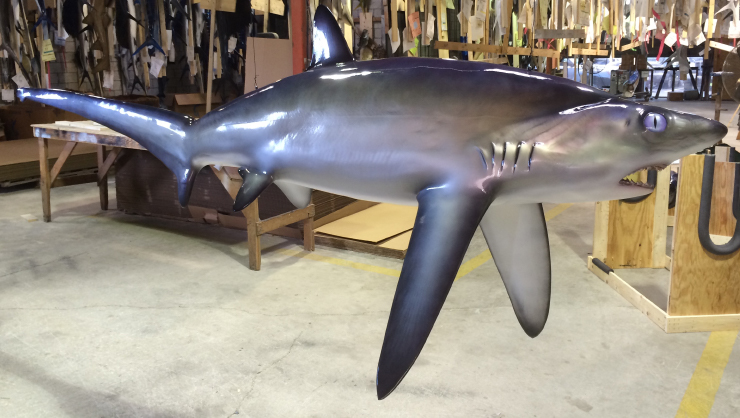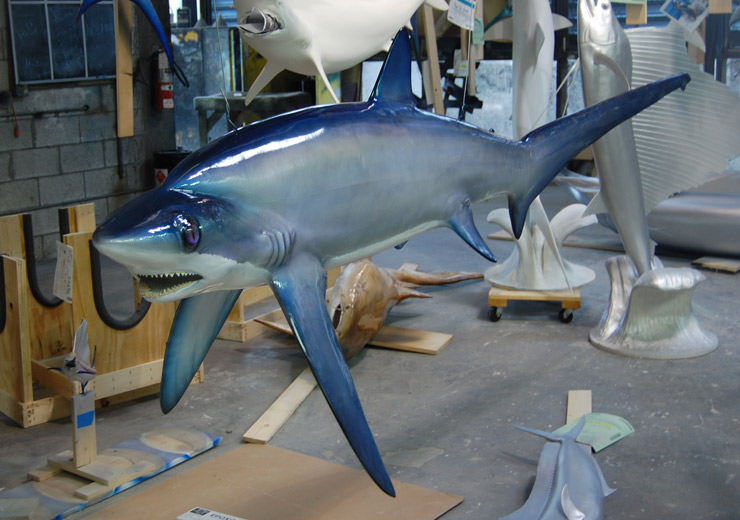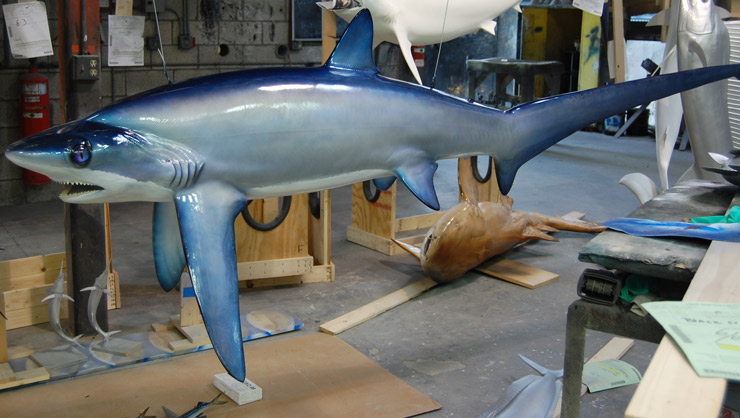 Product Overview
Our Thresher shark trophy fish mount from Gray Taxidermy is handcrafted in the U.S. We combine over fifty years of experience and skilled craftsmanship to ensure that your custom trophy mount exceeds your expectations of what a perfect custom fish mount should look like.
Our skilled artists take pride in capturing the rich beauty and realism of nature that each unique marine species bring. A fish mount from Gray Taxidermy will capture and commemorate a memory of a life time. We are able to transform raw materials into the ultimate representation of an angler's most notable achievement.
Great attention to detail and true craftsmanship is our motto while we continue to serve customers around the world. Gray Taxidermy goes to great lengths to ensure the precise color and characteristics are resembled in your custom fish mount.
Before leaving our facility, each custom fish mount is thoroughly inspected to ensure our goal of 100% customer satisfaction.
If you want to complete your trophy wall with a unique action scene by adding baitfish along your mount, we have a variety of baitfish mounts to choose from.
Product Specs:
Available Sizes: 53 in. - 216 in.
Details: Fired-Enamel Glass Eye

We also offer elegant solid wood plaques with a photo. Choose between a Piano finish rosewood or walnut design. Available in four sizes. See more here



Species Information
Scientific Name: We craft both the Common Thresher (Alopias vulpinus) and the Bigeye Thresher (Alopias superciliosus)

Common threshers have a countershaded body, dark blue-gray above and white underneath. It has small jaws, but can use its tail to corral and even kill fish. The first dorsal fin is much, much bigger than the second; the pectoral fins are curved. Like other mackerel sharks, it has an anal fin, 5 gill slits, 2 dorsal fins, no fin spines, mouth behind the eyes, and no nictitating eyelids. It is a very strong swimmer and can even leap out of the water. It is mostly nocturnal (most active at night).
Its large, upward-mounted eyes immediately mark the Bigeye Thresher Shark as a deep-sea predator that hunts its prey from far below. The species part of the Bigeye Thresher's scientific name means "conceited". But — like every other aspect of this shark's strange appearance — its unusual ocular arrangement makes perfect sense in the context of how it lives.

Overview — The muscular thresher shark cuts quite a figure as it navigates through its deepwater domains. Also called the "thrasher shark," this species possesses a distinctive large tail that resembles the arc of a rainbow. The tail is so large that it accounts for 33 percent of the shark's total body weight, meaning that the tail alone may weigh up to 767 pounds.
Rarely seen near shore, the thresher shark mostly lives along the continental shelves of North America and Asia. It has been identified in all of the world's tropical oceans. Thresher sharks are solitary. In fact, scientists recently determined that populations in the Indian Ocean were separated both by depth and gender.
Feeding Habits — Like a giant sea rake, the tail of the thresher shark helps to herd bony fishes and to whack at them, if necessary, before consumption. Usually this shark's hunting technique involves stirring the water around schools of fish, which traps them in a mini whirlpool. The terrified fish huddle together, making them a perfectly concentrated potential meal for the shark. It then zooms into the fish huddle, mouth agape.
Cool Fact — The thresher shark can swim at high speeds in short bursts and may even leap high out of the water if threatened or provoked from above.
Common Max Depth — 1,640 feet
Fish Molding Process
We have and continue to travel the world to make our one of a kind molds as they are a vital part in order to handcraft the most popular fish mounts on the market. Our patented molds are then used to create the various fish models from which we can reproduce the life-like fish trophy mounts.
We do not extend, shorten or modify an existing model to fulfill an order. Instead we use one of the over 10,000 models of various sizes and species available. And we can of course customize the mount to fulfill your needs and we are confident that we can build your custom fish mount regardless of inch increment or fish species.
We build one fish at a time to match the length, girth, and all of the specific characteristics and details only YOUR FISH displays. [Complete Molding Process]

Proud SupporterS of the Charter fishing Captains and
the charter fishing industry for over 50 years!
Continuing to perfect the art of mounting fish