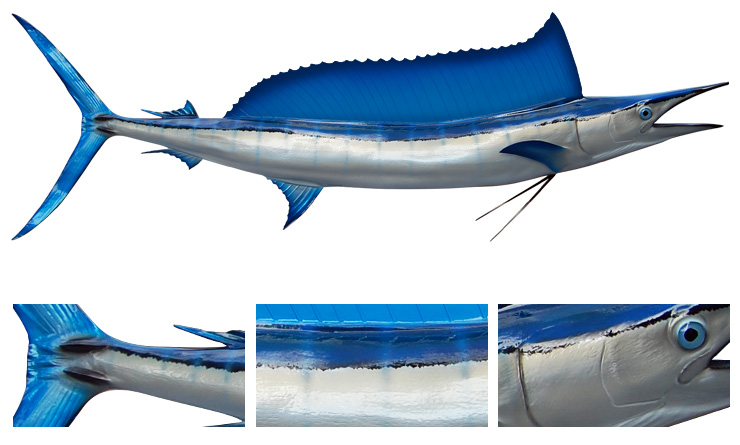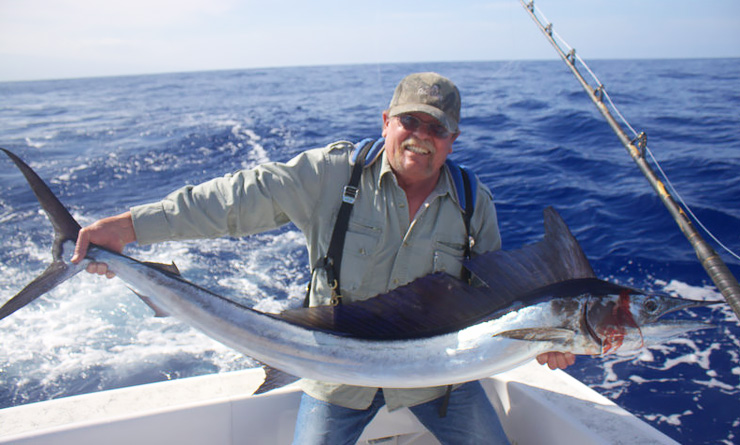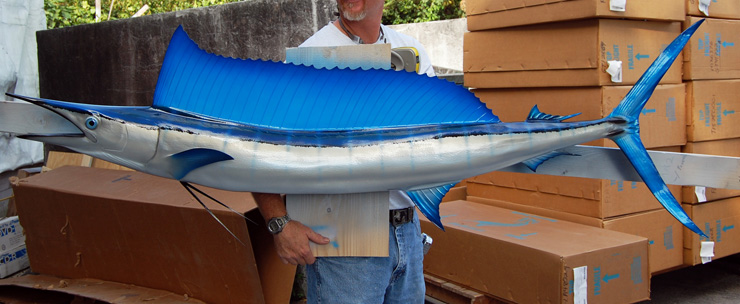 Product Overview
Our Shortbill Spearfish trophy fish mount from Gray Taxidermy is handcrafted in the U.S. We combine over fifty years of experience and skilled craftsmanship to ensure that your custom trophy mount exceeds your expectations of what a perfect custom fish mount should look like.
Our skilled artists take pride in capturing the rich beauty and realism of nature that each unique marine species bring. A fish mount from Gray Taxidermy will capture and commemorate a memory of a life time. We are able to transform raw materials into the ultimate representation of an angler's most notable achievement. Great attention to detail and true craftsmanship is our motto while we continue to serve customers around the world. Gray Taxidermy goes to great lengths to ensure the precise color and characteristics are resembled in your custom fish mount.
Before leaving our facility, each custom fish mount is thoroughly inspected to ensure our goal of 100% customer satisfaction.
If you want to complete your trophy wall with a unique action scene by adding baitfish along your mount, we have a variety of baitfish mounts to choose from.
Product Specs:
Available Sizes: 50 in. - 81 in.
Details: Fired-Enamel Glass Eye

Species Information
Scientific Name: Tetrapturus angustirostris

Average Weight: 20 - 60 lbs.

Location & Habitat: The shortbill spearfish is known in the Pacific and Indian Oceans.

Biology: These species are lesser-known and small members of the Istiophoridae family of billfish that are also referred to as slender spearfish. They are pelagic, offshore, deep-water fish that appear to be available all year in small numbers but are infrequently encountered by anglers in most parts of their range. They feed near the surface, mainly on small and medium-sized fishes and squids, including dolphin, sauries, flying fish, needlefish and pilot fish.

Physical Description: Spearfish can be distinguished from other billfish by a slender, lightweight body, short bill, and a dorsal fin that is higher than in marlin and lower than in the sailfish. The vent is located well in front of the anal fin; in all other billfish, the vent is located close to the anal fin. The bill of the shortbill spearfish is barely longer than its lower jaw. The pectoral fins of the shortbill barely reaches to the curve of the lateral line. The shortbill spearfish has 47 to 50 elements more in the first dorsal fin than any other Atlantic billfish, although it may appear similar to the white marlin. The lateral line is single and arches above the pectoral fins. The dorsal fin is bright blue and has no spots. The vertical bars on the body are never as prominent as in other billfish and may show only slightly or not at all.
Fish Molding Process
We have literally travelled the world to make our molds which are a vital part in order to handcraft any fish mount possible. The patented molds are then used to create the various fish models from which we can reproduce the life like fish trophy mounts.
We do not extend, shorten or modify an existing model to fulfill an order. Currently we have over 10,000 models of various sizes and species available, making us very confident that we will be able to build your custom fish mount regardless of inch increment or type of fish
We build one fish at a time to match the length, girth, and all of the specific characteristics and details only YOUR FISH displays. [Complete Molding Process]

Proud SupporterS of the Charter fishing Captains and
the charter fishing industry for over 50 years!
Continuing to perfect the art of mounting fish