Product Overview
A Pacific Sailfish trophy fish mount from Gray Taxidermy is handcrafted in the U.S. We combine over fifty years of experience and skilled craftsmanship to ensure that your custom trophy mount exceeds your expectations of what a perfect custom fish mount should look like.
Our skilled artists take pride in capturing the rich beauty and realism of nature that each unique marine species bring. A fish mount from Gray Taxidermy will capture and commemorate a memory of a life time. We are able to transform raw materials into the ultimate representation of an angler's most notable achievement.
Great attention to detail and true craftsmanship is our motto while we continue to serve customers around the world. Gray Taxidermy goes to great lengths to ensure the precise color and characteristics are resembled in your custom fish mount.
Before leaving our facility, each custom fish mount is thoroughly inspected to ensure our goal of 100% customer satisfaction.
If you want to complete your trophy wall with a unique action scene by adding baitfish along your mount, we have a variety of baitfish mounts to choose from.
Product Specs:
Available Sizes: 36 in. - 130 in.
Details: Fired-Enamel Glass Eye
Optinal Coating: UV Inhibitive Polyurethane Outdoor Coating
We also offer elegant solid wood plaques to accompany yor trophy mount. Choose between a Piano finish rosewood or walnut design with action photo or traditional wood plaque with sublimated personalized information. See more here



Size: 15 in x 12 in

10 in x 8 in personalized wood plaque. Color: Gold





10 in x 8 in personalized wood plaque. Color: Blue
Species Information
Scientific Name: Istiophorus platypterus

Average Size: 5.7 to 11 ft (1.7 to 3.4 m)
Average Weight: 120 to 220 lbs (54.4 to 100 kg)

Location & Habitat: Inhabits tropical and subtropical waters near land masses, usually in depths over 6 fathoms, but occasionally caught in lesser depths and from ocean piers. Pelagic and migratory, sailfish usually travel alone or in small groups. They appear to feed mostly in midwater along the edges of reefs or current eddies.

Its outstanding feature is the long, high first dorsal which is slate or cobalt blue with a scattering of black spots. The second dorsal fin is very small. The bill is longer than that of the spearfish, usually a little more than twice the length of the elongated lower jaw. The vent is just forward of the first anal fin. The sides often have pale, bluish gray vertical bars or rows of spots. 

Physical Description: Its fighting ability and spectacular aerial acrobatics endear the sailfish to the saltwater angler, but it tires quickly and is considered a light tackle species. Fishing methods include trolling with strip baits, plures, feathers or spoons, as well as live bait fishing and kite fishing. The most action is found where sailfish are located on or near the surface where they feed.

Recent acoustical tagging research suggest that this species is quite hardy and that survival of released specimens is good.
Sailfish are highly prized game fish, and are known for their incredible jumps and great speed. They can swim 100 m in 4.8 sec. They can appear in a startling array of colours, from subdued browns and grays to vibrant purples and even silver. Their body colours are often highlighted by stripes of iridescent blue and silver dots. Sailfish can change their colours almost instantly—a change controlled by their nervous system. The sailfish can rapidly turn its body light blue with yellowish stripes when excited, confusing its prey and making capture easier, while signalling its intentions to fellow sailfish.
Did you know?

Sailfish are the fastest fish in the ocean and have been clocked leaping out of the water at more than 68 mi (110 km) per hour.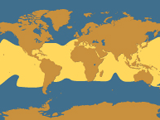 Sailfish Range


Fish Molding Process

We have and continue to travel the world to make our one of a kind molds as they are a vital part in order to handcraft the most popular fish mounts on the market. Our patented molds are then used to create the various fish models from which we can reproduce the life-like fish trophy mounts.

We do not extend, shorten or modify an existing model to fulfill an order. Instead we use one of the over 10,000 models of various sizes and species available. And we can of course customize the mount to fulfill your needs and we are confident that we can build your custom fish mount regardless of inch increment or fish species.

We build one fish at a time to match the length, girth, and all of the specific characteristics and details only YOUR FISH displays. [Complete Molding Process]

Proud SupporterS of the Charter fishing Captains and
the charter fishing industry for over 50 years!
Continuing to perfect the art of mounting fish