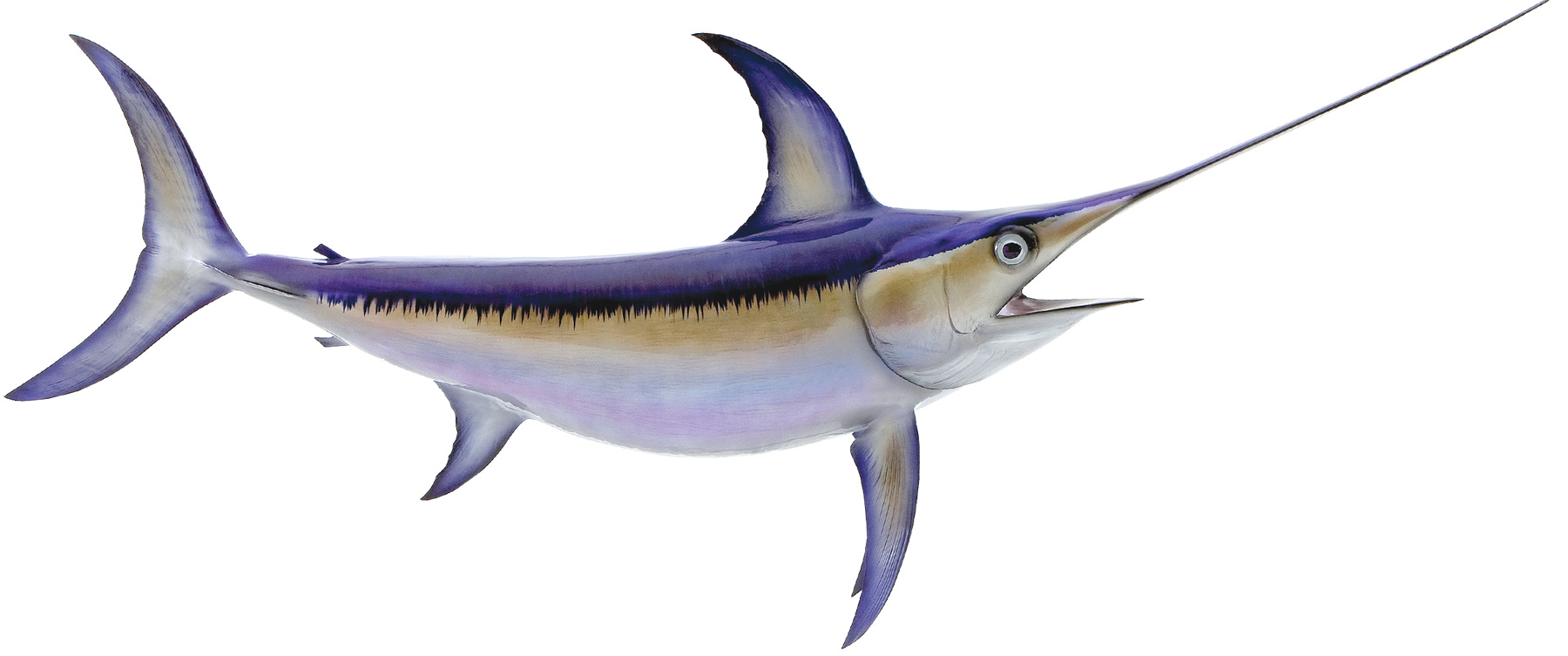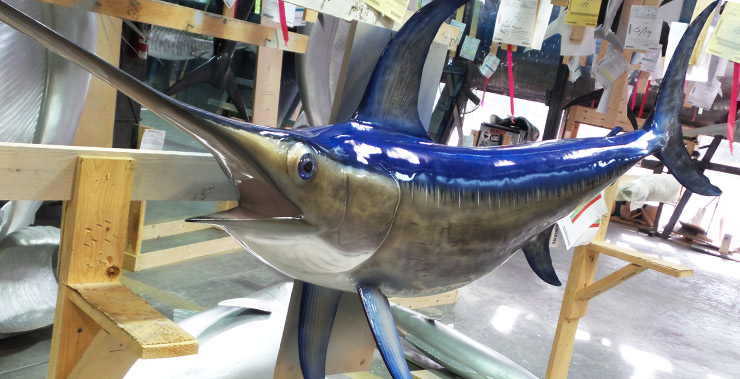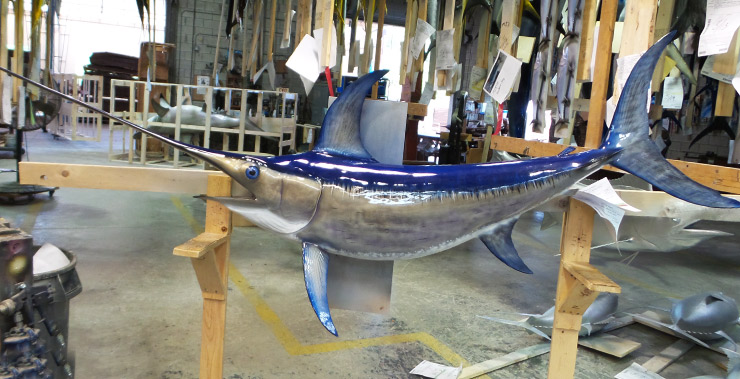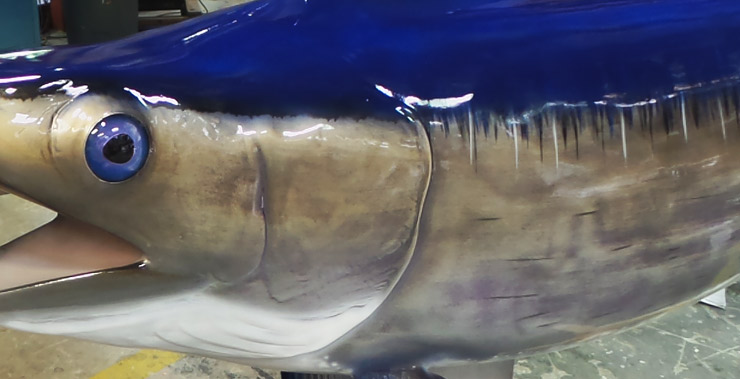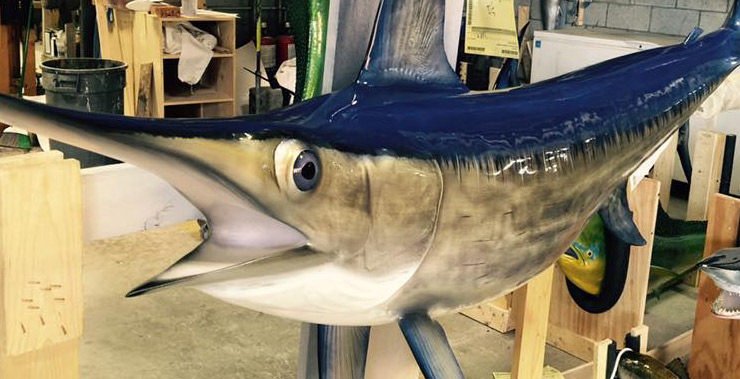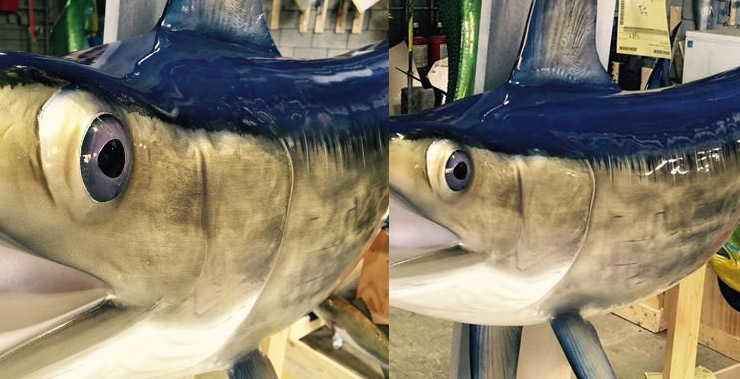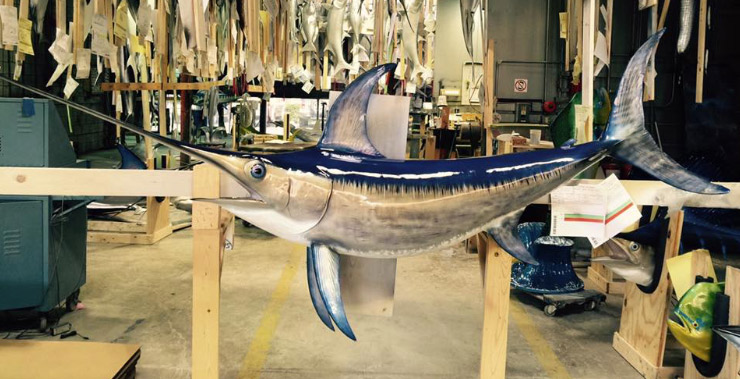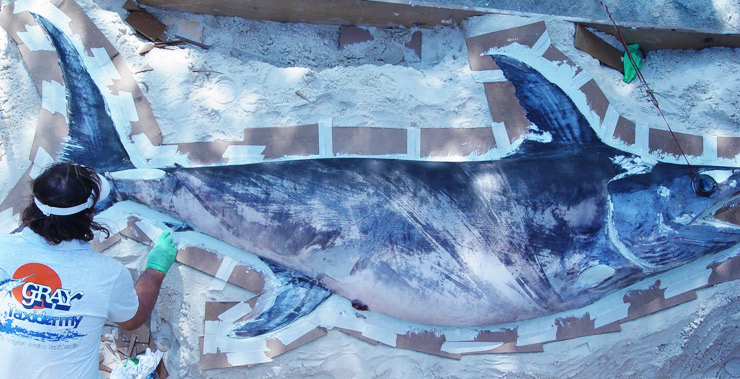 Actual Swordfish placed on a bed of sand. Only one of many steps in the process of a mold being created.
Product Overview
A Swordfish trophy mount from Gray Taxidermy is handcrafted in the U.S. We combine over fifty years of experience and skilled craftsmanship to ensure that your custom trophy mount exceeds your expectations of what a perfect custom fish mount should look like.
Our skilled artists take pride in capturing the rich beauty and realism of nature that each unique marine species bring. A fish mount from Gray Taxidermy will capture and commemorate a memory of a life time. We are able to transform raw materials into the ultimate representation of an angler's most notable achievement. Great attention to detail and true craftsmanship is our motto while we continue to serve customers around the world. Gray Taxidermy goes to great lengths to ensure the precise color and characteristics are resembled in your custom fish mount.
Before leaving our facility, each custom fish mount is thoroughly inspected to ensure our goal of 100% customer satisfaction.
If you want to complete your trophy wall with a unique action scene by adding baitfish along your mount, we have a variety of baitfish mounts to choose from.
We also offer elegant solid wood plaques to accompany yor trophy mount. Choose between a Piano finish rosewood or walnut design with action photo or traditional wood plaque with sublimated personalized information. See more here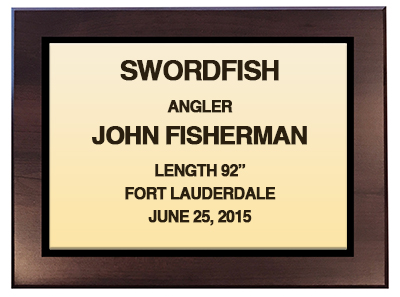 10 in x 8 in personalized wood plaque. Color: Gold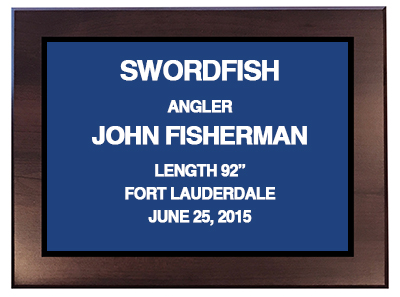 10 in x 8 in personalized wood plaque. Color: Blue
Product Specs:
Available Sizes: 36 in. - 165 in.
Details: Fired-Enamel Glass Eye
Optinal Coating: UV Inhibitive Polyurethane Outdoor Coating
Species Information
Scientific Name: Xiphias gladius

Length/Weight: Swordfish reach a maximum size of 177 in. (455 cm) total length. Maximum weight of 1,400 lbs. (650 kg),

Swordfish, also known as broadbills in some countries, are large, highly migratory, predatory fish characterized by a long, flat bill. They are a popular sport fish of the billfish category, though elusive.
Location & Habitat: Generally an oceanic species, the swordfish is primarily a midwater fish at depths of 650-1970 feet (200-600 m) and water temperatures of 64 to 71°F (18-22°C). Although mainly a warm-water species, the swordfish has the widest temperature tolerance of any billfish, and can be found in waters from 41-80°F (5-27°C). The swordfish is commonly observed in surface waters, although it is believed to swim to depths of 2,100 feet (650 m) or greater, where the water temperature may be just above freezing.
One adaptation which allows for swimming in such cold water is the presence of a "brain heater," a large bundle of tissue associated with one of the eye muscles, which insulates and warms the brain. Blood is supplied to the tissue through a specialized vascular heat exchanger, similar to the counter current exchange found in some tunas. This helps prevent rapid cooling and damage to the brain as a result of extreme vertical movements. 

Physical Description: The swordfish, as the only member of the family Xiphiidae, can be distinguished from other billfishes (Family Istiophoridae) by the shape of its prolonged "bill", which appears as a flattened oval in cross section. The bill is long relative to other billfishes and adults lack teeth in the jaws. While the young have scales, these are lost by the time the fish attain a body length of about 3 feet (1 m). Adults lack scales and teeth.
The body is generally cylindrical. Two dorsal fins are present, although the second is quite small, separated from the first, and set far back on the body. The first dorsal fin is high and rigid. Likewise, there are two anal fins, although again the second is considerably smaller than the first. Pelvic fins are absent.


Fish Molding Process

We have and continue to travel the world to make our one of a kind molds as they are a vital part in order to handcraft the most popular fish mounts on the market. Our patented molds are then used to create the various fish models from which we can reproduce the life-like fish trophy mounts.

We do not extend, shorten or modify an existing model to fulfill an order. Instead we use one of the over 10,000 models of various sizes and species available. And we can of course customize the mount to fulfill your needs and we are confident that we can build your custom fish mount regardless of inch increment or fish species.

We build one fish at a time to match the length, girth, and all of the specific characteristics and details only YOUR FISH displays. [Complete Molding Process]
Proud Supporters of the Charter fishing Captains and
the charter fishing industry for over 50 years!
Continuing to perfect the art of mounting fish