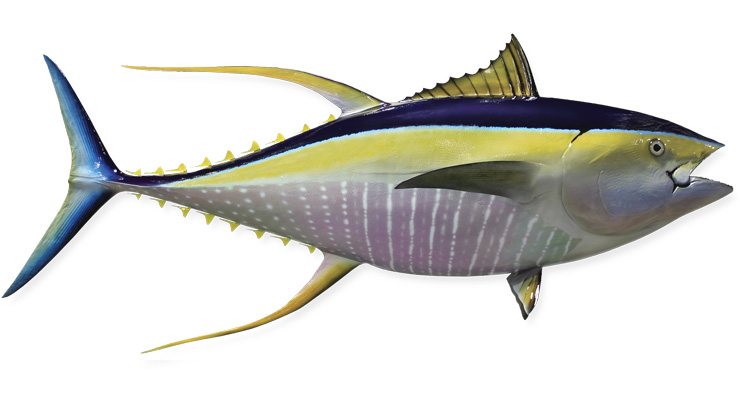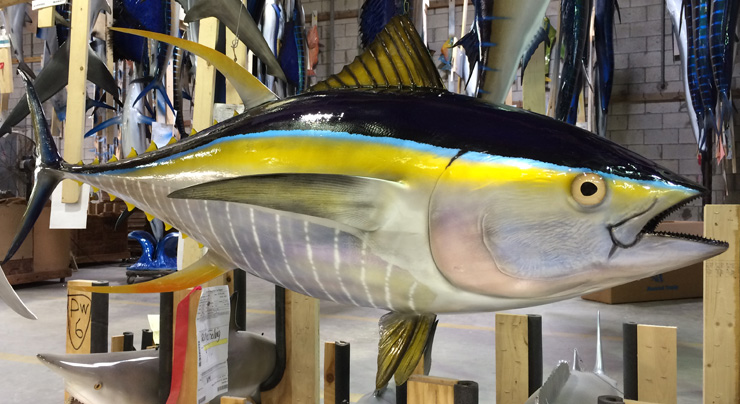 Wood plaque with personalized engraved plate available.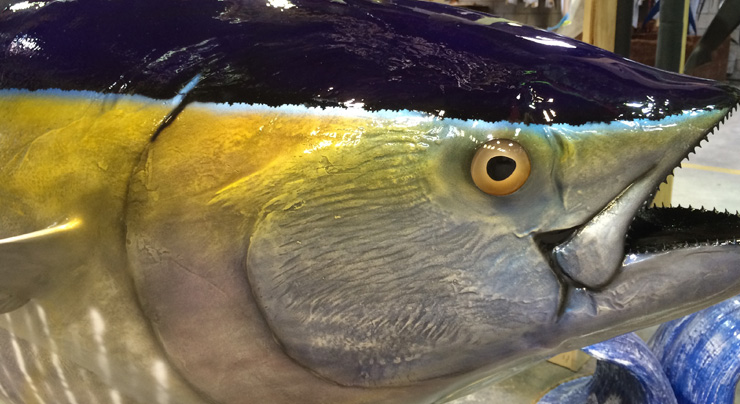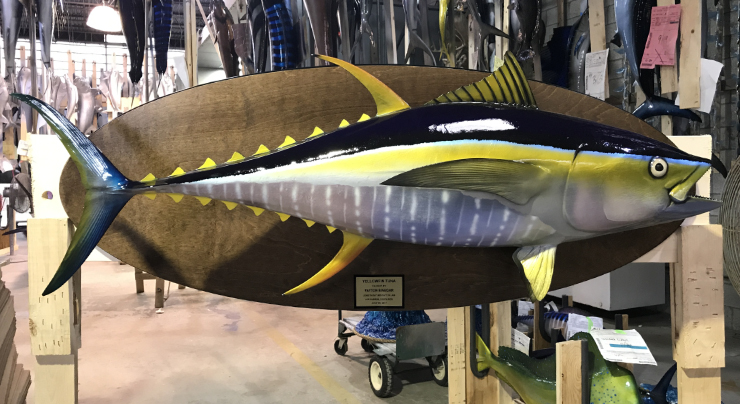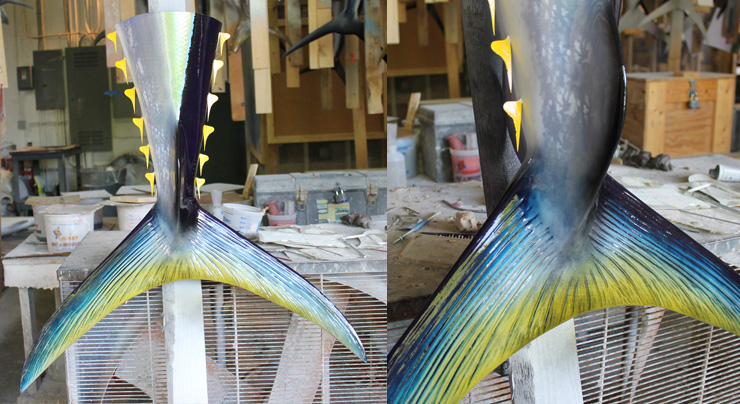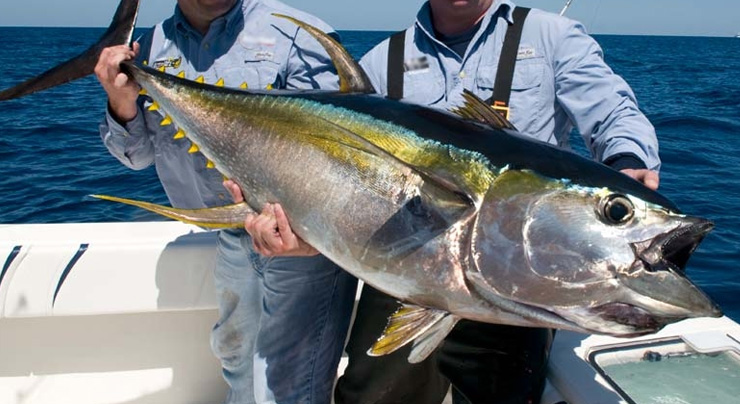 Custom base mounting options and 360° view ceiling mount also available.
Product Overview
A Yellowfin Tuna trophy mount from Gray Taxidermy is handcrafted in the U.S. We combine over fifty years of experience and skilled craftsmanship to ensure that your custom trophy mount exceeds your expectations of what a perfect custom fish mount should look like.
Our skilled artists take pride in capturing the rich beauty and realism of nature that each unique marine species bring. A fish mount from Gray Taxidermy will capture and commemorate a memory of a life time. We are able to transform raw materials into the ultimate representation of an angler's most memorable achievement.
Attention to detail and true craftsmanship is our motto while we continue to serve customers around the world. Gray Taxidermy goes to great lengths to ensure the precise color and characteristics are resembled in your custom fish mount.
Before leaving our facility, each custom fish mount is thoroughly inspected to ensure our goal of 100% customer satisfaction.
If you want to complete your trophy wall with a unique action scene by adding baitfish along your mount, we have a variety of baitfish mounts to choose from.
Product Specs:
Available Sizes: 32 in. - 85 in.
Details: Fired-Enamel Glass Eye
Product Options: Wood Plaque, Custom Base, 360°
We also offer elegant solid wood plaques to accompany yor trophy mount. Choose between a Piano finish rosewood or walnut design with action photo or traditional wood plaque with sublimated personalized information. See more here

10 in x 8 in personalized wood plaque. Color: Gold





10 in x 8 in personalized wood plaque. Color: Blue
Species Information
Scientific Name: Thunnus albacares

Size: 400-750 lbs
Location & Habitat: Occurs in tropical and warm temperate waters of the western Atlantic Ocean. There are scattered records of Yellowfin tuna occurring as far north as Martha's Vineyard, Massachusetts, but the usual range is from North Carolina to Rio de Janeiro, Brazil, including the Caribbean Sea and the Gulf of Mexico.
Description: Occurs worldwide in deep, warm temperate oceanic waters. It is both pelagic and seasonally migratory, but has been known to come fairly close to shore.

Yellowfin tuna are found near the surface of tropical and subtropical oceans around the world. They are highly migratory and can swim across an entire ocean. Juvenile yellowfin tuna travel in schools with skipjack and juvenile bigeye tuna.
Yellowfin tuna grow fairly fast, up to 400 pounds, and have a somewhat short life span of about 7 years. Most yellowfin tuna are able to reproduce when they reach age 2 or 3. In the western Atlantic, they spawn from May to August in the Gulf of Mexico and from July to November in the southeastern Caribbean. In the eastern Atlantic Ocean, they spawn from October to March in the Gulf of Guinea and from April to June off Senegal. Females spawn about once every 3 days during the spawning season. They produce an average of 1 million to 4 million eggs each time they spawn.
Yellowfin tuna feed near the top of the food chain on fish, squid, and crustaceans. They are also prey for top predators such as sharks and large fish.
Yellowfin tuna are a torpedo-shaped fish. They're metallic dark blue on the back and upper sides, and change from yellow to silver on the belly. True to their name, their dorsal and anal fins and finlets are bright yellow.
Different species of tunas can be difficult to distinguish – they're similar in shape and are often caught together. Yellowfin tuna can be distinguished from other tunas by its long, bright-yellow dorsal fin and a yellow strip down its side. It's also more slender than bluefin tuna.


Fish Molding Process

We have and continue to travel the world to make our one of a kind molds as they are a vital part in order to handcraft the most popular fish mounts on the market. Our patented molds are then used to create the various fish models from which we can reproduce the life-like fish trophy mounts.

We do not extend, shorten or modify an existing model to fulfill an order. Instead we use one of the over 10,000 models of various sizes and species available. And we can of course customize the mount to fulfill your needs and we are confident that we can build your custom fish mount regardless of inch increment or fish species.

We build one fish at a time to match the length, girth, and all of the specific characteristics and details only YOUR FISH displays. [Complete Molding Process]

Proud SupporterS of the Charter fishing Captains and
the charter fishing industry for over 50 years!
Continuing to perfect the art of mounting fish