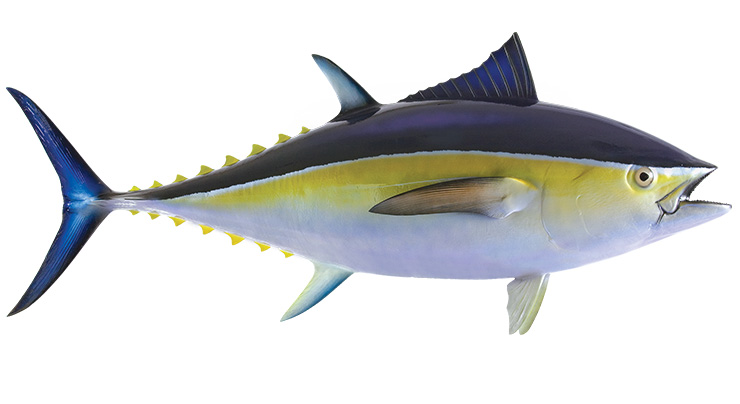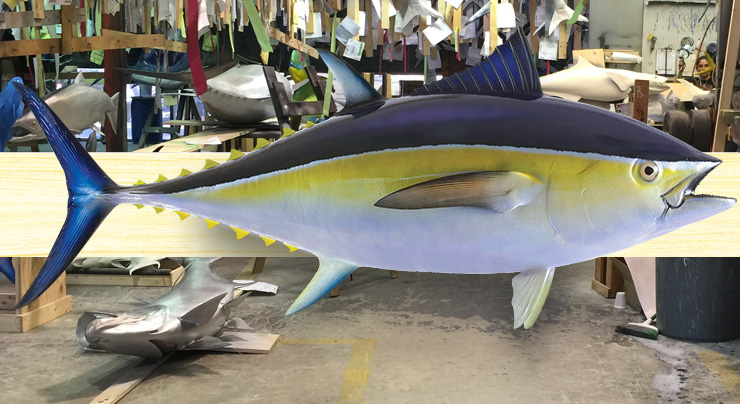 Wood plaque with personalized engraved plate available.



Custom base mounting options available.
Available as 360° view ceiling mount.
Product Overview
A Bluefin Tuna trophy fish mount from Gray Taxidermy is handcrafted in the U.S. We combine over fifty years of experience and skilled craftsmanship to ensure that your custom trophy mount exceeds your expectations of what a perfect custom fish mount should look like.
Our skilled artists take pride in capturing the rich beauty and realism of nature that each unique marine species bring. A fish mount from Gray Taxidermy will capture and commemorate a memory of a life time. We are able to transform raw materials into the ultimate representation of an angler's most notable achievement. Great attention to detail and true craftsmanship is our motto while we continue to serve customers around the world. Gray Taxidermy goes to great lengths to ensure the precise color and characteristics are resembled in your custom fish mount.
Product Specs:
Available Sizes: 72 in. - 110 in.
Details: Fired-Enamel Glass Eye
Product Options: Wood Plaque, Custom Base, 360°
Species Information
Scientific Name: Thunnus thynnus

Length: Average weight of 299-1499 lbs
(up-to 13 Ft. and 2,000 lbs)
Location & Habitat: Northern, or Atlantic, bluefin tuna live throughout the entire North Atlantic and its adjacent seas, including the Mediterranean. In the western Atlantic, bluefin are found from Newfoundland to the Gulf of Mexico; in the eastern Atlantic, they're found from south of Iceland to the Canary Islands, and throughout the Mediterranean Sea.
Bluefin tuna live near the surface in temperate waters but frequently dive to depths of 500 to 1,000 meters. Bluefin tuna are a highly migratory species – they can migrate thousands of miles across an entire ocean. Tagging studies have indicated that bluefin tuna move across the east/west boundary in the Atlantic. Although they're highly migratory, they tend to spawn in the same areas in the Gulf of Mexico and Mediterranean.
Description: Bluefin are the largest tuna and can live up to 40 years. They migrate across oceans and can dive more than 4,000 feet. Bluefin tuna are made for speed: built like torpedoes, have retractable fins and their eyes are set flush to their body. They are tremendous predators from the moment they hatch, seeking out schools of fish like herring, mackerel and even eels. They hunt by sight and have the sharpest vision of any bony fish. There are three species of bluefin: Atlantic (the largest and most endangered), Pacific, and Southern. Most catches of the Atlantic bluefin tuna are taken from the Mediterranean Sea, which is the most important bluefin tuna fishery in the world.
The bluefin tuna has a large, torpedo-shaped body that is nearly circular in cross-section. They are the largest of the tuna species and can reach up to 13 feet and 2,000 pounds. Bluefin tuna are dark blue-black on the back and white on the lower sides and belly. Live bluefin have colorless lines alternating with rows of colorless spots on their lower sides. The second fin on their back (dorsal fin) is reddish brown, and they have short pectoral fins. These characteristics separate this species from other members of the tuna genus, Thunnus.


Fish Molding Process

We have and continue to travel the world to make our one of a kind molds as they are a vital part in order to handcraft the most popular fish mounts on the market. Our patented molds are then used to create the various fish models from which we can reproduce the life-like fish trophy mounts.

We do not extend, shorten or modify an existing model to fulfill an order. Instead we use one of the over 10,000 models of various sizes and species available. And we can of course customize the mount to fulfill your needs and we are confident that we can build your custom fish mount regardless of inch increment or fish species.

We build one fish at a time to match the length, girth, and all of the specific characteristics and details only YOUR FISH displays. [Complete Molding Process]