Have a Question? or like to check the status of your order?

Let us know and we will respond to you shortly. Meanwhile you may find the answers to common questions on the FAQ section.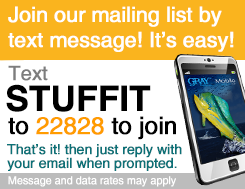 Things to ask your taxidermist
Facts about marine taxidermy
Hear what our customers say...


I just wanted to thank you for the excellent job on my first Marlin, a 400 pound Black I caught off Cairnes, Australia last Oct...
[more]
- Judge Chuck W.

I just wanted to touch base with you to let you know that we received the mount that we ordered and it looks awesome!! We were very happy with the final product and really appreciate all of your great service...
[more]
- Layla Callaghan
More Customer Testimonials
A mounted fish form Gray Taxidermy is incredibly detailed and life-like and more durable than any other fish mount on the market.
We are proud to say that we are the largest marine taxidermy company in the world, crafting the finest quality and most life like mounted fish available. Our company has been in the marine taxidermy business for over 50 years, giving us the knowledge and experience to create a trophy fishmount of a lifetime. We strive to recreate your fish to resemble the way it was during the memorable day you caught it.
Gray Taxidermy Blog
- Get the latest stories and testimonials
Gray Taxidermy now present you another way to remember your catch of a lifetime by offering you your own Catch and Release Certificate.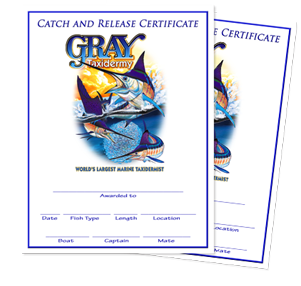 In the past, "Catch and Release Certificates" were only offered to anglers participating in tournaments and were created to help them remember and celebrate their fishing experience.
Now Gray Taxidermy will make available for you, your family and friends the same certificate to commemorate your catch and the special day it was caught.

Ask your captain and/or mate to fill one out for you!
Hang your certificate with the name of the boat, Captain, mate, date of catch and angler next to your trophy fish mount!
It's a great gift idea too!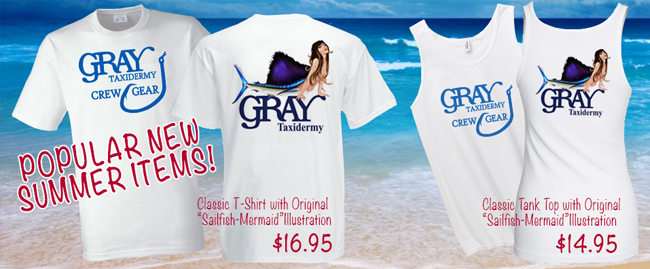 The craftsmanship we provide combined with the unique painting process ensures that your trophy fish will look the same, year after year.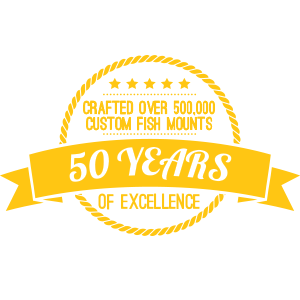 We are at the forefront of marine taxidermy, pioneering new ways to provide top quality trophy fish mounts for our customers worldwide. All Gray Taxidermy mounted fish are made from fish, whether it is a beautiful Blue Marlin, Sailfish, or a Peacock Bass, all our mounted fish are realistic and life like. That's why Gray's Taxidermy trophymounts are recognized world-wide as the finest salt water and fresh water fish taxidermy available.
You may have heard the term "release mount", a term sometimes used by anglers to describe their mounted fish. A release mount is a trophy fish that the angler decided to let go, or release, knowing it is not necessary to harvest or keep the fish in order to get a fishmount.


We take great pride in providing the best quality product and world-class customer service. To see our customers come back time after time to get their new trophy fishmounts is what makes our job so satisfying.
Hear what our customers have to say... Naturally you will find a wide variety of fish that our customers hire us to reproduce. Whether it's a freshwater fish, exotic saltwater fish, shark or a billfish, we've done it all. Seeing the exitement that each customer shows when receiving their trophy mount is what makes our day here at Gray so rewarding.

Did you know?


Sponsors of Gray Taxidermy