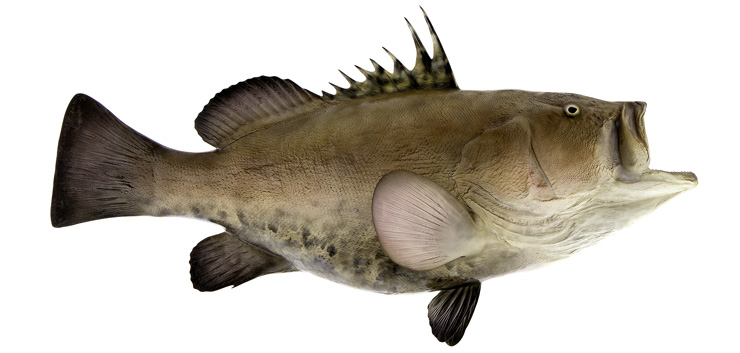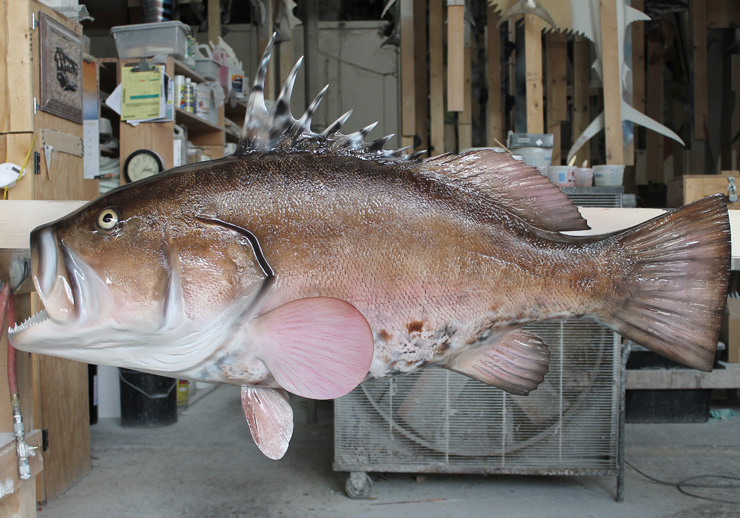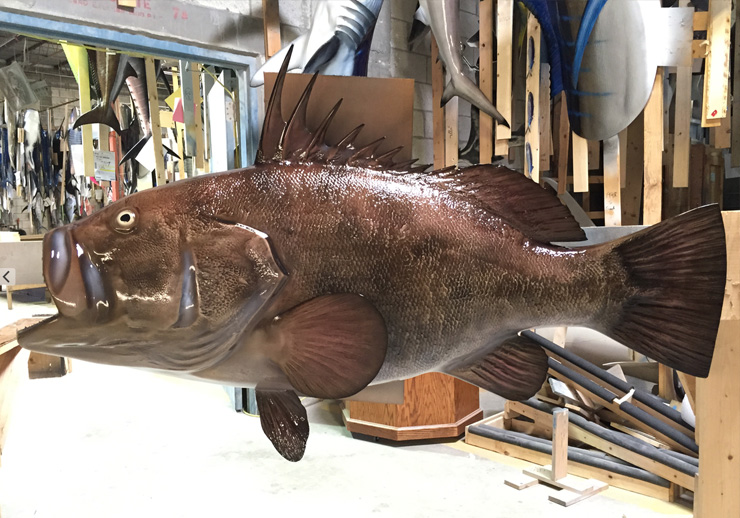 Wood plaque with personalized engraved plate available.



Custom base mounting options available.
Available as 360° view ceiling mount.
Product Overview
A Warsaw Grouper trophy fish mount from Gray Taxidermy is handcrafted in the U.S. We combine over fifty years of experience and skilled craftsmanship to ensure that your custom trophy mount exceeds your expectations of what a perfect custom fish mount should look like.
Our skilled artists take pride in capturing the rich beauty and realism of nature that each unique marine species bring. A fish mount from Gray Taxidermy will capture and commemorate a memory of a life time. We are able to transform raw materials into the ultimate representation of an angler's most notable achievement. Great attention to detail and true craftsmanship is our motto while we continue to serve customers around the world. Gray Taxidermy goes to great lengths to ensure the precise color and characteristics are resembled in your custom fish mount.
Before leaving our facility, each custom fish mount is thoroughly inspected to ensure our goal of 100% customer satisfaction.
If you want to complete your trophy wall with a unique action scene by adding baitfish along your mount, we have a variety of baitfish mounts to choose from.
Product Specs:
Available Sizes: 40 in. - 80 in.
Details: Fired-Enamel Glass Eye
Product Options: Wood Plaque, Custom Base, 360°
Species Information
Scientific Name: Epinephelus nigritus

Size: Common to 100 pounds, they can grow to over 6 feet in length and 400 pounds.
Location & Habitat: Deep rocky ledges and sea mounts, in 90-300 m (300-1000 ft). Young are sometimes caught in inshore waters.

Description: This species is found Gulfwide, but is more common in the northern Gulf of Mexico. Smaller fish may be found shallower than 100 feet deep, but warsaw grouper, especially larger specimens, are most common deeper than 200 feet, commonly out to 700 feet. They are found in a wide variety of habitats, offshore oil and gas platforms, rock piles, coral, hard bottom encrusted with living organisms (live bottom), ledges, and drop offs.
The warsaw grouper's overall body color is a dark mottled brown. The second spine of the dorsal fin is noticeably longer than the others and the spiny part of the fin appears crest-like, resembling a rooster comb. A dead give-away to identification is that this is the only grouper in the Gulf of Mexico with 10 spines in the dorsal fin.

Warsaw grouper are long-lived, to at least 25-30 years. They are not well researched, in spite of the glamour of their size and their wide distribution. Because of their large size and power, only the heaviest equipment with heavy line can be used. A strike can be interpreted as a hangup on the bottom. They will hug the bottom and often attempt to swim under obstructions.


Fish Molding Process

We have and continue to travel the world to make our one of a kind molds as they are a vital part in order to handcraft the most popular fish mounts on the market. Our patented molds are then used to create the various fish models from which we can reproduce the life-like fish trophy mounts.

We do not extend, shorten or modify an existing model to fulfill an order. Instead we use one of the over 10,000 models of various sizes and species available. And we can of course customize the mount to fulfill your needs and we are confident that we can build your custom fish mount regardless of inch increment or fish species.

We build one fish at a time to match the length, girth, and all of the specific characteristics and details only YOUR FISH displays. [Complete Molding Process]