Custom 360º view mounting options available.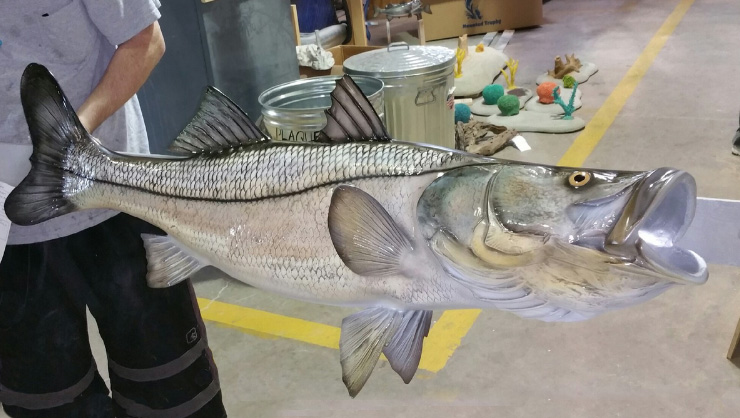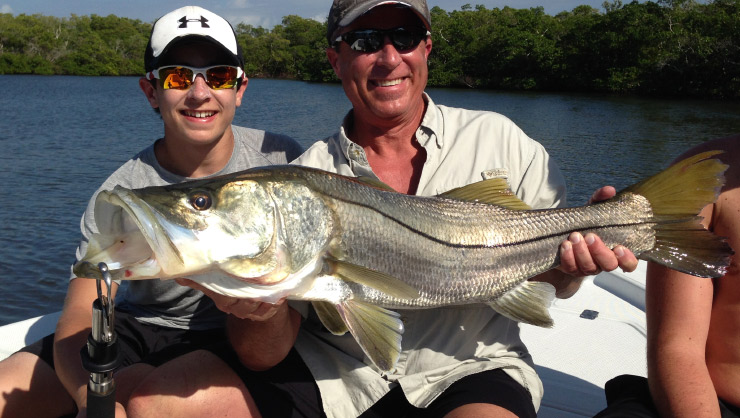 Custom paint scheme of a "Tarpon Snook" (Centropomus pectinatus)

Product Overview
A Snook trophy fish mount from Gray Taxidermy is handcrafted in the U.S. We combine over fifty years of experience and skilled craftsmanship to ensure that your custom trophy mount exceeds your expectations of what a perfect custom fish mount should look like.
Our skilled artists take pride in capturing the rich beauty and realism of nature that each unique marine species bring. A fish mount from Gray Taxidermy will capture and commemorate a memory of a life time. We are able to transform raw materials into the ultimate representation of an angler's most notable achievement.
Great attention to detail and true craftsmanship is our motto while we continue to serve customers around the world. Gray Taxidermy goes to great lengths to ensure the precise color and characteristics are resembled in your custom fish mount.
Before leaving our facility, each custom fish mount is thoroughly inspected to ensure our goal of 100% customer satisfaction.
If you want to complete your trophy wall with a unique action scene by adding baitfish along your mount, we have a variety of baitfish mounts to choose from.
Product Specs:
Available Sizes: 12" - 50"
Details: Fired-Enamel Glass Eye
Product Options: Wood Plaque, Custom Base, 360°
Species Information
Scientific Name: Centropomus undecimalis
Average Size: There is very little known about the Roosterfish's life span. Anglers have caught these fish over four feet long and weighing 100 pounds.
Location & Habitat: The Common Snook are the most widely distributed species within the Centropomus genus and have been reported as far north as New York and throughout the Gulf of Mexico. Snook are abundant along the Atlantic coast of Florida from Cape Canaveral south through the Keys and Dry Tortugas, and north to Cedar Key on the gulf coast. snook occur infrequently along the coast of Texas to Galveston and then more or less continuously south to Rio de Janeiro, Brazil. 
Juvenile snook are generally restricted to the protection of riverine and estuary environments. These environments offer shallow water and an overhanging vegetative shoreline. Juvenile common snook can survive in waters with lower oxygen levels than adults. Adult common snook inhabit many environments including mangrove forests, beaches, river mouths, nearshore reefs, salt marshes and sea grass meadows.
Adult common snook appear to be less sensitive to cold water temperatures than larvae or small juveniles. The lower lethal limit of water temperature is 48.2°-57.2° F for juveniles and 42.8°-53.6° F for adults.
Description: Snook have a slender body and a distinct lateral line. The dorsal fins are high and divided and the anal spines are relatively short. Snooks have a sloping forehead with a large mouth and a protruding lower jaw. Adult snook can grow to over 47.24 inches in total length, which is larger than any other species in this family. Coloration of the common snook is golden yellow with a distinct black lateral line and pale yellow pelvic fins. Snooks lack teeth on the maxillae. There is a band of fine teeth located on the premaillae and the dentaries. The palatine bone has a narrow band of teeth on it and the ectopterygoid bone located behind the palate may or may not have a tooth patch associated with it.
Snook on the Atlantic coast of Florida commonly grow to larger sizes than common snook on the gulf coast of Florida. The largest observed sizes for females on the Atlantic and gulf coasts are 43.5 inches and 40.6 inches.


Fish Molding Process

We have and continue to travel the world to make our one of a kind molds as they are a vital part in order to handcraft the most popular fish mounts on the market. Our patented molds are then used to create the various fish models from which we can reproduce the life-like fish trophy mounts.

We do not extend, shorten or modify an existing model to fulfill an order. Instead we use one of the over 10,000 models of various sizes and species available. And we can of course customize the mount to fulfill your needs and we are confident that we can build your custom fish mount regardless of inch increment or fish species.

We build one fish at a time to match the length, girth, and all of the specific characteristics and details only YOUR FISH displays. [Complete Molding Process]

Proud SupporterS of the Charter fishing Captains and
the charter fishing industry for over 50 years!
Continuing to perfect the art of mounting fish