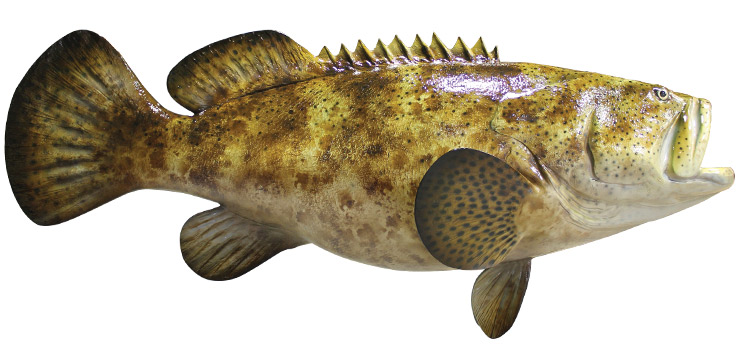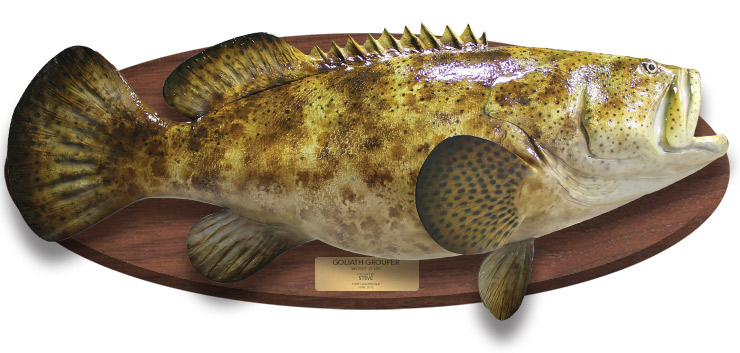 Wood plaque with personalized engraved plate available.




Available as 360° view ceiling mount.
Custom base mounting options also available.
Product Overview
A Goliath Grouper trophy fish mount from Gray Taxidermy is handcrafted in the U.S. We combine over fifty years of experience and skilled craftsmanship to ensure that your custom trophy mount exceeds your expectations of what a perfect custom fish mount should look like.
Our skilled artists take pride in capturing the rich beauty and realism of nature that each unique marine species bring. A fish mount from Gray Taxidermy will capture and commemorate a memory of a life time. We are able to transform raw materials into the ultimate representation of an angler's most notable achievement. Great attention to detail and true craftsmanship is our motto while we continue to serve customers around the world. Gray Taxidermy goes to great lengths to ensure the precise color and characteristics are resembled in your custom fish mount.
Before leaving our facility, each custom fish mount is thoroughly inspected to ensure our goal of 100% customer satisfaction.
Product Specs:
Available Sizes: 32 in. - 84 in.
Details: Fired-Enamel Glass Eye
Product Options: Wood Plaque, Custom Base, 360°
Species Information
Scientific Name: Epinephelus itajara

Average Weight: 30 - 40 lbs

Description: The Goliath Grouper (Mycteroperca bonaci) is one of the best known of the large group of perciform fish called groupers.
Location & Habitat: The Goliath Grouper is found throughout the western Atlantic Ocean. The northern boundary of its range is off Massachusetts and extends east to Bermuda. The range extends south to southern Brazil. It is also present in Gulf of Mexico and the Caribbean Sea, including the Florida Keys and Cuba. Goliath Groupers are found mainly on rocky bottoms and in coral reef environments. Their depth ranges from anywhere from 19 to 108 feet. Juvenile Goliath Groupers are also found in seagrass beds off of the coast of Florida.
Grouper, a warm-water food fish of the sea bass family. Groupers are distinguished by their numerous dorsal spines. They feed on crustaceans and fish. Most groupers are two to three feet (60 to 90 cm) long. Some species have special pigment cells in the skin that allow them to change color quickly for protective coloration. Under certain circumstances, the females of some species can change sex. These females live in small schools headed by a mature male. If the male dies or abandons the school, several of the females become males and are capable of fertilizing the eggs.
The Goliath Grouper is one of the best known of the large group of perciform fish called groupers. The Goliath Grouper is a fairly large marine fish, growing up to 150 cm in length and 100 kg in weight. It has an olive or gray body, with black blotches and brassy spots. The preoperculum is gently rounded. The Goliath Grouper is a solitary fish. The fish spawns between May and August. It is a protogynous hermaphrodite, i.e. the young are predominantly female, but transform into males as they grow larger.
Adults feed mainly on other fish and squid, though the younger fish feed on crustaceans, especially shrimp.


Fish Molding Process

We have and continue to travel the world to make our one of a kind molds as they are a vital part in order to handcraft the most popular fish mounts on the market. Our patented molds are then used to create the various fish models from which we can reproduce the life-like fish trophy mounts.

We do not extend, shorten or modify an existing model to fulfill an order. Instead we use one of the over 10,000 models of various sizes and species available. And we can of course customize the mount to fulfill your needs and we are confident that we can build your custom fish mount regardless of inch increment or fish species.

We build one fish at a time to match the length, girth, and all of the specific characteristics and details only YOUR FISH displays. [Complete Molding Process]