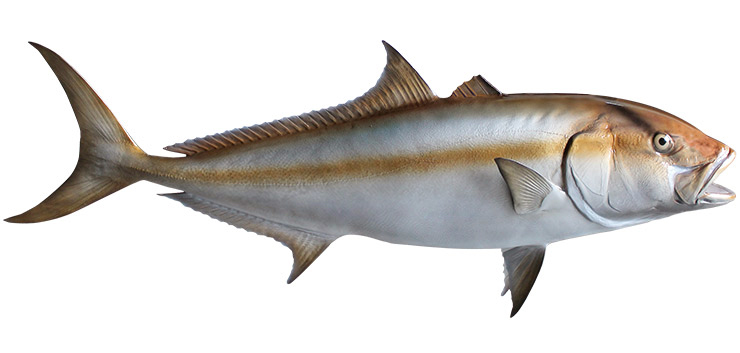 CLICK TO ZOOM
Wood plaque with personalized engraved plate available.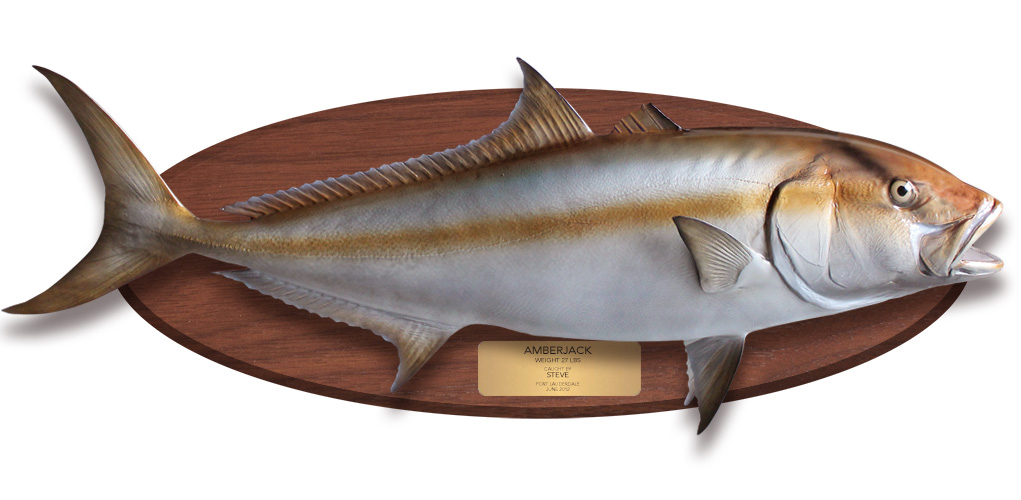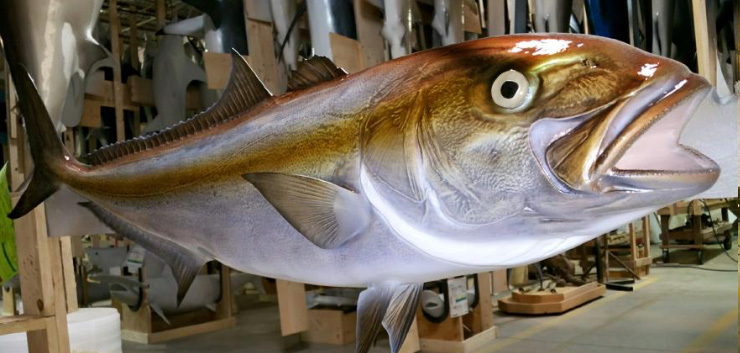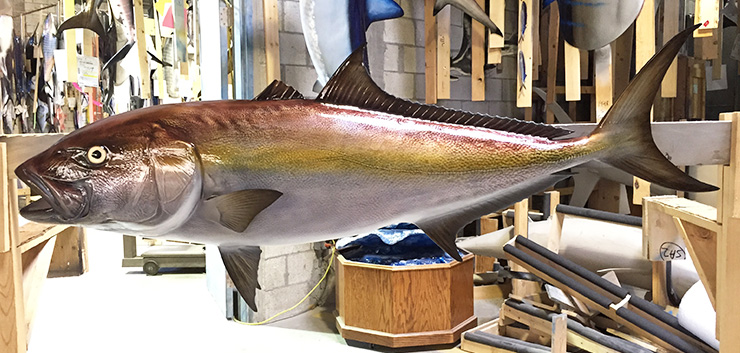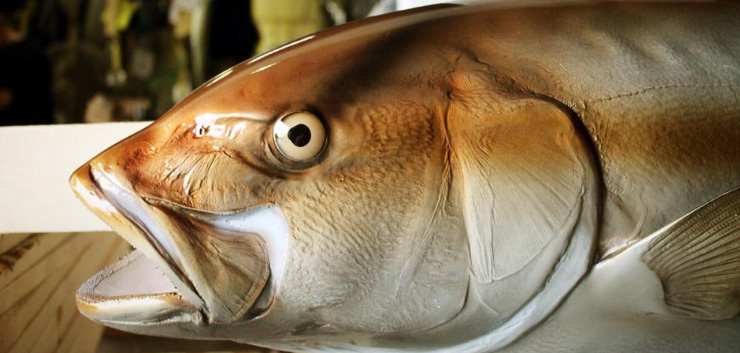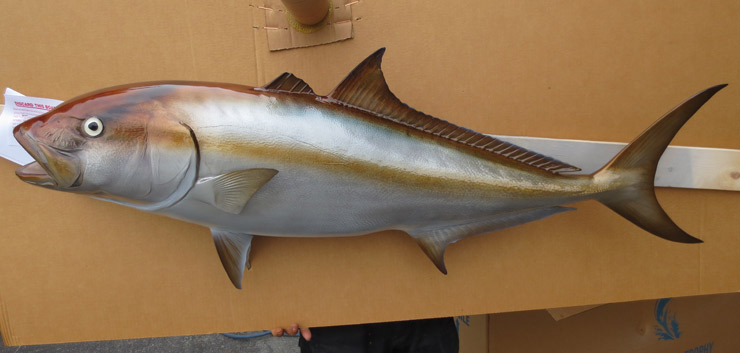 Available as 360° view ceiling mount.
Custom base mounting options available.
Product Overview
An Amberjack trophy fish mount from Gray Taxidermy is handcrafted in the U.S. We combine over fifty years of experience and skilled craftsmanship to ensure that your custom trophy mount exceeds your expectations of what a perfect custom fishmount should look like.
Our skilled artists take pride in capturing the rich beauty and realism of nature that each unique marine species bring. A fish mount from Gray Taxidermy will capture and commemorate a memory of a life time.
We are able to transform raw materials into the ultimate representation of an angler's most notable achievement. Great attention to detail and true craftsmanship is our motto while we continue to serve customers around the world. Gray Taxidermy goes to great lengths to ensure the precise color and characteristics are resembled in your custom Amber Jack fish mount.
Product Specs:
Available Sizes: 17 in. - 68 in.
Details: Fired-Enamel Glass Eye
Product Options: Wood Plaque, Custom Base, 360°
Species Information
Scientific Name: Seriola dumerili

Average Weight: 10 - 15 lbs

Description: Amber Jacks have a dark stripe that extends from nose to in front of dorsal fin that becomes more promenant when fish is in feeding mode; no scutes; soft dorsal base less than twice the length of the anal fin base.
Amberjack have elongated, moderately compressed bodies. They have a slender head longer than their body depth and have 31 - 34 dorsal fin rays. They are generally blue, blueish-green or purplish green above and silver-white below. Amberjacks can be distinguished by their yellow caudal fins. Depending upon species, they can weigh up to 140 pounds.
Location & Habitat: This is an OFFSHORE species associated with rocky reefs, debris, and wrecks, typically in 60 - 240 feet of water that are not often caught nearshore in East Central Florida. We find amberjack off the Cocoa Beach and East Central Florida on wrecks and deep rock ledges and hard bottom debre.
Amberjack, the name of a group of fish found in temperate ocean waters throughout the world. Many amberjacks are popular game fish. The common, or greater, amberjack is found off the west coast of Europe, off the east coast of the United States, and in the Gulf of Mexico. It is most abundant south of Cape Hatteras and is often caught as a game fish in Florida waters. Its upper body is blue, the belly is silver, and the fins are yellowish-gray. The common amberjack can reach five to six feet (1.5 to 1.8 m) in length and more than 100 pounds (45 kg) in weight. The average weight, however, is 10 to 15 pounds (4.5 to 6.8 kg). The Pacific amberjack and the Pacific yellowtail are often caught off the southwestern coast of the United States.
Amberjacks make up the genus Seriola. The common amberjack is S. dumerili; the Pacific amberjack, S. colburni; the Pacific yellowtail, S. lalandei. Amberjacks belong to the family Carangidae.


Fish Molding Process

We have and continue to travel the world to make our one of a kind molds as they are a vital part in order to handcraft the most popular fish mounts on the market. Our patented molds are then used to create the various fish models from which we can reproduce the life-like fish trophy mounts.

We do not extend, shorten or modify an existing model to fulfill an order. Instead we use one of the over 10,000 models of various sizes and species available. And we can of course customize the mount to fulfill your needs and we are confident that we can build your custom fish mount regardless of inch increment or fish species.

We build one fish at a time to match the length, girth, and all of the specific characteristics and details only YOUR FISH displays. [Complete Molding Process]

Proud SupporterS of the Charter fishing Captains and
the charter fishing industry for over 50 years!
Continuing to perfect the art of mounting fish