Founder/Owner: Captain Bill Gray

Owners: Leo and Ian

GM: Bill and Sales Manager: Joe

Paint Artists: Tyler and Leo

Customer's Support:
Jen, Laurie and Kate

Captain's Support:
"Mango" and Ashlee

Captain's Support:
Scott and "Scotty"

Captain's Support: Craig
Shipping: Amy

Marketing: Kim and Jonas

Shipping Department:
Alexis, Lela and Marjeta

Accounting: Joy and Lisa
Gray Taxidermy consists of a dedicated crew who's main focus is 100% customer satisfaction.
Welcome to Gray Taxidermy, The World's Largest Marine Taxidermy Company. Gray Taxidermy is located in Pompano Beach, Florida, in a modern 70,000 square foot facility. We have been in business for over 50 years and have created more than 500,000 of the world's finest made fish wall mounts.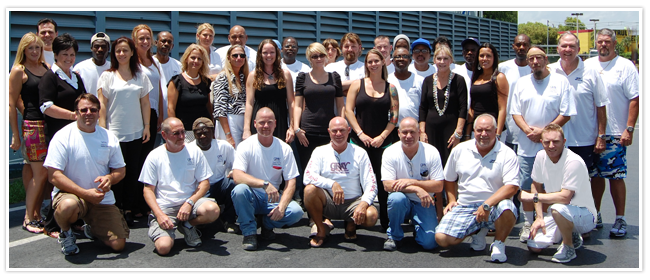 Captain Bill Gray opened his first studio more than 50 years ago to help his fishing customers preserve their fishing experiences by offering a taxidermy service for their fish mount trophies. 

From working alone in his garage to becoming The World's Largest Marine Taxidermy Company, Captain Gray's artistic talent has provided trophies of lifelike quality for thousands of fishermen. No one knows the process better or produces a higher quality fish mount product than Gray Taxidermy.
Gray Taxidermy fish trophies are available world-wide. Choosing Gray Taxidermy means not only will you be receiving your fish mount of a life time; you are also getting the most expertise and the best quality fish mount backed by the top Captains and Fishermen/Women in the world. Gray Taxidermy sets the standard for the fish taxidermy industry.

We would love to show you around our facility in Pompano Beach, Florida! You can have a first-hand glance at the fish mount process and see our replica 3400 lb 18 foot long Great White Shark chasing a school of Amberjacks mounted high on our building and a 27-foot Blue Marlin in our fountain off Interstate 95. If you are a past or present customer, then stop by when you are in town for a personal tour.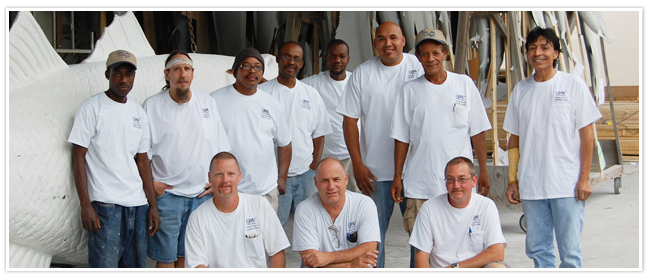 At Gray Taxidermy we believe that purchasing a custom made fishmount is an investment, and just like a piece of art, a fishmount will be a conversation piece in your home or office for years to come. Therefore it is important to know a few things about the company before making your decision on who to contract.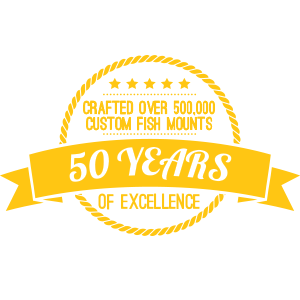 Gray Taxidermy fish molds are made from real fish. That's why Gray Taxidermy fish mounts are recognized world-wide as the finest fish mounts available. Gray Taxidermy is often imitated - never equaled. At Gray Taxidermy, we are fishermen and women that are totally dedicated to the industry we work and play in. Our artists are handpicked and experts in their own craft. They are here for one reason only, to handcraft a world class product that will last a lifetime.
Being the World's Largest Marine Taxidermy Company, Gray Taxidermy has always shown support to the fishing industry as well as taking conservational steps to maintain all viable stocks of fish.
What some of our customers say about us...

Hi Amy, I just wanted to let you know that I received my fish mount last week and there were no problems. I am really impressed on how well it came out. I will recommend your company to all my friends who want to get a great fish mount made. I hope to be able to do more business with you in the future. Have a good holiday and a happy new year.

Dennis Peterson

Hi Joe, We wanted to touch base with you to let you know that we received the mount that we ordered and it looks awesome!! We were very happy with the final product and really appreciate all of your great service. It was a pleasure for us and we are so happy with decided to go ahead and have the mount done.

I've attached a picture of the mount in our home so that you can see it. I work in customer service so I know how important is to me to get good feedback from clients so I wanted to take the time to let you know how pleased we were.

Thanks again for everything!! All the best for the holidays!
Layla Callaghan